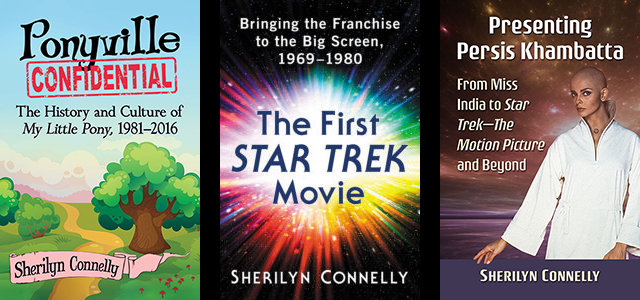 Sherilyn Connelly is a San Francisco-based writer. Her work can be found in anthologies including but not limited to It's So You: 35 Women Write About Personal Expression Through Fashion and Style by Seal Press, Good Advice for Young Trendy People of All Ages by Manic D Press, and Unthology No. 1 by Unthank Books, and she contributed to the periodicals Instant City, make/shift, Other Magazine, and Morbid Curiosity.
She has written about movies and television for Medialoper and the popular Gawker Media blog io9, and was the head film critic for SF Weekly from 2013 through 2019. She no longer co-hosts Nose Hair Lint Gland on Radio Valencia, much to their relief.
Sherilyn's first work of scholarly sparkliness, Ponyville Confidential: The History and Culture of My Little Pony, 1981-2016, was published by McFarland & Company in March 2017 and is available at popular prices!
Her second book with McFarland, The First Star Trek Movie: Bringing the Franchise to the Big Screen, 1969-1980, was published in October 2019 and is available at slightly less popular prices.
Her third book, Presenting Persis Khambatta: From Miss India to Star Trek—The Motion Picture and Beyond, will be published by McFarland in 2021 at a price which is unlikely to win any popularity contests.